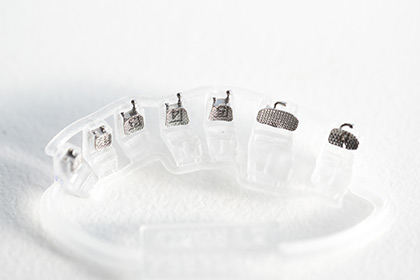 The Brace Space and Stuart Davidson Orthodontics are among the first clinics in Eastern Canada to offer the new technology of Digital Indirect Bonding. What is it and what does it mean to you, our patient?
At the first visit for braces, we do an intraoral scan with our Itero scanner, (no more trays with goop in them!) to make the models of the teeth. The scan is 3D and this offers us the best possible view of our patient's mouth. From this digital model, we correctly place the braces, but initially in virtual reality. From this model, a bonding tray is created.
For the next appointment, we have the bonding tray ready, with braces intact. With one application, we are able to attach all the braces at once while easily removing the tray. In conventional orthodontic practises, patients needed to have a physical impression taken, or sit in the chair, as brackets are directly bonded, one by one. Using a bonding tray as an intermediary step, means that you can load all brackets simultaneously.
Our clinic started offering indirect bonding because the process of putting on braces can now be done with digital precision while providing more comfort for our patients. What all of this means is that things go more smoothly, with an easier and faster initial visit (less time using cheek retractors), and because of the digital placement, fewer adjustments during treatment, giving us all more reasons to smile!