Dr. Sarah Davidson and Dr. Dan Stuart have implemented a revolutionary new style of custom braces technology at The Brace Space. This has taken us into a new age of orthodontics, and we are excited about it for our patients! There was the introduction of Invisalign, but not since 25 years has there been any drastic change in the design and function of conventional braces.
We have needed this, as not everyone is suited for Invisalign. LightForce was created by Orthodontists for Orthodontists, so they knew the challenges that both patients and they, themselves, were facing. As a result, this braces technology has hit the orthodontic world with a great deal of excitement and promise. Just recently, LightForce Orthodontics secured $50 million series C funding led by Kleiner Perki. They, and other investors believe in this revolutionary new 'one size fits one' braces!
Always being on the cutting edge of technology and education, our Orthodontists, Dr. Sarah Davidson and Dr. Dan Stuart were a few of the first offices in Canada to be part of the limited release of the crystal clear bracket. And now, they are among the first in North America to have started 100 cases with LightForce!
But what exactly is LightForce and what does this mean to our patients at The Brace Space? To begin with, they are fully customizable. Perfect fit for any tooth, no matter the size, shape or surface.
LightForce customized braces are created with 3D-printing technology that results in the only true custom braces system, providing true personalization in 3D bracket technology. By offering 3D-printed brackets that can adapt to every change in tooth position, the custom treatment can be carried out with precision and accuracy.
Furthermore, the brackets are white, patient-specific 3D-printed ceramic polycrystalline alumina brackets, no more metal! And finally, because of the 3D digital printed bracket, there are fewer office visits required, fewer broken brackets and generally shorter treatment times.
We are thrilled to be able to implement this amazing new clear, cutting edge and custom technology right at your doorstep in Bedford and area!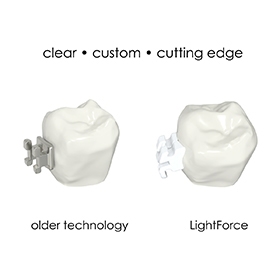 Bracket placement for old technology vs Lightforce