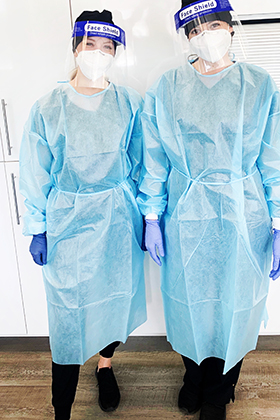 Our Orthodontists Dr. Sarah Davidson and Dr. Dan Stuart are using Covid-19 as a chance to redefine Orthodontic care right here in our community of Bedford and area. To offer the best and safest patient care, we are in constant contact with colleagues from all over the world, most of whom have faced the pandemic before us and this gives us an advantage as we move forward.
Safety first, is our motto. From our virtual waiting room in the parking lot, thorough Covid-19 symptom screenings, convenient sanitization centers, plexiglass dividers and a socially-distanced friendly, one-way traffic flow, we are committed to ensuring that your visit to our office is a safe one. We all know that proper PPE is key, and you will see our masks, shields and gowns, but we are taking things one step farther with Surgically clean air purifiers to provide the best quality air for our patients and our staff. These world-class, medical-grade air purifiers were designed for the SARS outbreak and they remove chemicals, toxins, germs, odours, and most importantly kill airborne viruses, such as Covid-19. Think of it as Purel for the air. The only thing that has not changed, is the patient and Orthodontic care that is still a part of every visit to The Brace Space!
But Covid-19 is not just about physical changes to our space. It is about rethinking the way we see patients. Virtual consultations are an exciting new concept that will allow you to get answers about your teeth and bite, or the bite of your children, without leaving the comfort of your home. Using proprietary technology and the aid of photos and real-time video, we can do initial assessments and track progress for certain appointment types. This means fewer people in the clinic and more convenience for you as the parent or patient.
Digital Technology is also bringing big changes to our retainer program! Our goal is to eliminate all moulds made with goopy impression material! Instead, we will use 3-D (non-radiation) scanning and 3-D printing to create replicas of your teeth which we can then use to make retainers and other appliances. This is wonderful news for our orthodontic patients, and their feedback on these scans is that they are "so quick and easy!" It is especially exciting for those patients who struggle with gagging!
We are also excited to launch some new wire technology for braces. Wires that straighten teeth are not all made equally and we have invested in some long-acting wires which provide gentle forces over time which results in more efficient and comfortable tooth movement and fewer appointments to the office!
With all of these changes being implemented, there has never been a more exciting time to consider orthodontic treatment at The Brace Space! It's all about options for the whole family. It's about new technology and safety, the option for some of the visits from home, and the option to come in to see us in the safest possible environment. It is orthodontic care, whether with braces or Invisalign, tailored to the changing landscape and your changing needs. As always, no referrals are necessary at The Brace Space and a free screening or consultation is a simple click away!